Likun Jing is a talented actress who has successfully made a name for herself in the U.S. acting industry. Being an overseas dream pursuer is hard, but she is always consistent with what she wants to achieve and has successfully turned her disadvantages of international identity into privileges she used to produce great work, ranging from stage plays to short films.  The success of Jing's latest short film Neckline is a striking result of her patience and faith.
As a gifted child in acting, Jing never hides her talent away from people. From elementary to high school, she was responsible for the overall planning of all school galas, including on-stage performance such as hosting and acting as well as behind-the-scenes activities like rehearsals and proofreading scripts. Jing herself also took part in the school play Cinderella and presented it on TV, making the very first step into her acting career.
"I have always been consistent with my acting career," Jing says, "I didn't follow a regular routine to become a lawyer or a doctor, which was something that I was expected to, when I chose to come to the United States. My uncle, who is already a U.S citizen, made me realize that finding something that makes you happy is essential."
In 2017, Jing participated in the stage version of A Doll's House by Norwegian playwright Henrik Ibsen. Although her character was set up as thoughtful and compassionate, Jing found that her kindness was not always the redemption for others. Under her professor's guidance, she had gradually come to realize that to interpret a role well, the first step is to believe and understand it from the heart. And Jing has found herself more confident through the practice of her acting skills since then.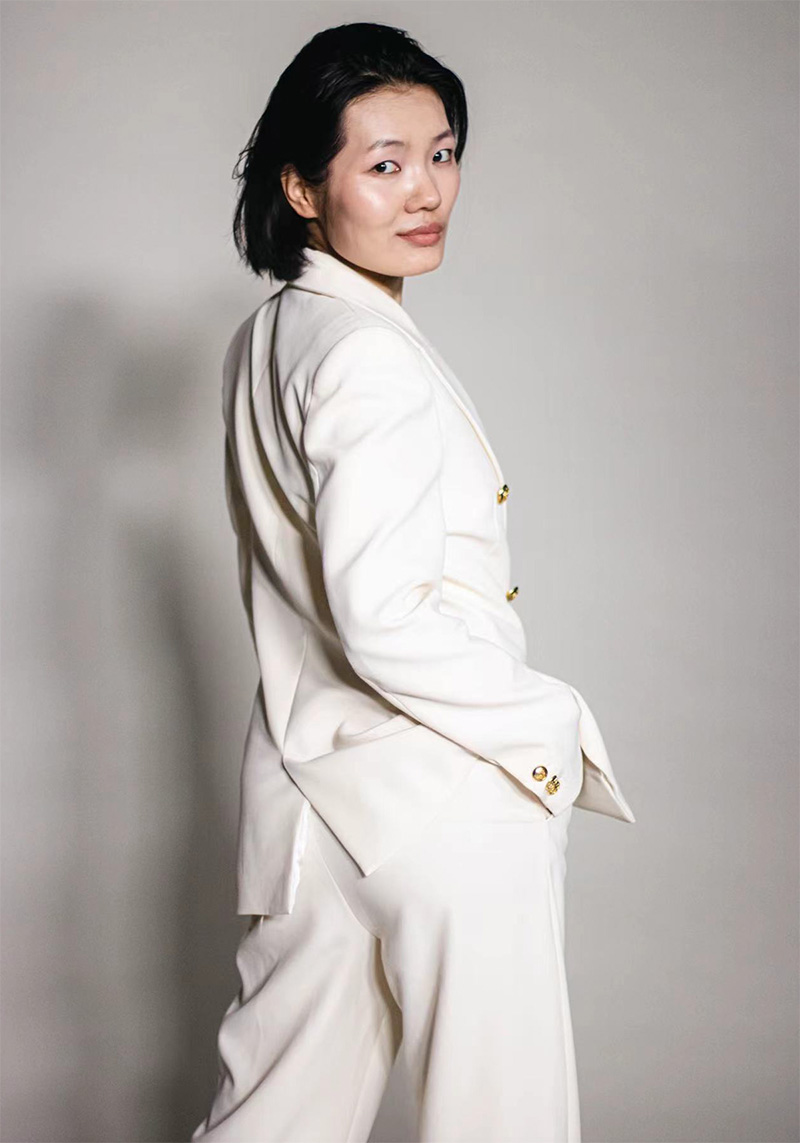 Jing's latest short film Neckline is a story about self-exploration and looks at the identity struggles women face. As the name suggests, Neckline refers to the necks of women that are exposed in the air, regarded as immoral and shameless in the film. It's a story about how different women are fighting a fight to hold their ground so they can live their lives how they want.
Jing said, "I understand how difficult it is to participate in this competition overseas. People like me, we came here for our dreams, but very few of us are consistent with what we wanted to do and keep fighting for it. I believe my female international identity could be a plus to my career, as long as I find the right way to interpret it."
Jing's Neckline character is a professional model worker during the daytime turned dominatrix at night.  When she puts on her favorite makeup and outfit, she becomes more opinionated. The film discusses the limitation of the space society gives women and criticizes the traditional viewpoint of what women should and should not do.
Jing reveres Neckline as being emotionally meaningful that highlights the importance that women should have a choice, regardless of their age, race and religion in society. The short film includes several women of different cultural backgrounds, with Jing one of the big players. The film has won several awards including the 2022 Best Short Film on Diversity International Cosmopolitan Film Award and 2022 Merit Liberation/Social Justice/Protest Best Short Competition Award.